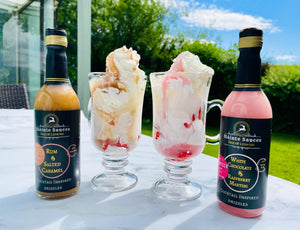 Slàinte Sauces ('slan-cha' a Scottish toast)
Fàilte

Welcome to Slàinte Sauces
Discover the sensational world of very boozy Scottish dessert and savoury sauces.
With a range of award-winning sauces that pour like syrup, our products are the perfect addition to any celebration.

Slàinte Sauces are not just for dessert - they're versatile enough to boost your dinner parties, barbecues, and picnics. They also make fabulous gifts for the foodie and cocktail lovers in your life.

Originally created and launched on the enchanting Isle of Lismore, our sauces are now produced in our own facility in Oban on the West coast of Scotland.
Each sauce contains nearly TWO measures of alcohol, making them a truly decadent adult-only pleasure. With a burst of color and mouth-watering flavors, you can dip, drizzle, and decorate your favorite savory and sweet foods with our sauces.

We encourage you to unleash your inner chef and "plate like a pro." Share your culinary creations on Instagram using the hashtag #slaintesauces and join our community of sauce enthusiasts.

Indulge in the rich flavors of whisky, rum, port, amaretto and gin with our boozy dessert and savoury sauces.
Experience the perfect balance of sweetness, tipsy delight, and traditional Scottish flair. Shop now to bring a wee celebration to your home dining experience and food gifting.
Slàinte